If you plant goodness, you will harvest faithful love. Plow your ground, and you will harvest with the Lord. He will come, and he will make goodness fall on you like rain.

Hosea 10:12
Check out this update from our mission partners in Vietnam, Thang and Alyssa Lai. Thang is a Vietnamese pastor and Alyssa serves with Resource Exchange International. We work with REI as well to give short-term mission trips to exchange expertise in the fields of medicine, business, education, and agriculture.
---
Phew! So much to say and so little space, for both Thang and me.
I always find it so much easier to brag about my husband, and what God is doing through him, but there are so many exciting things happening in my "Ag world" too, so please allow me to brag a bit about what God has been doing in my world. 🙂
The trip to southern Vietnam was amazing. I'm so grateful to be able to tag along as Iowa State University seeks to build partnerships with Vietnamese universities. A team of three university representatives and two graduate students (including me) toured fields and farms in southern Vietnam. We particularly looked at how the rising ocean levels, due to climate change, are affecting farmers in the delta. They are having to deal with increasing salinity in their fields/irrigation channels, as well as unstable, and changing climate conditions. Opportunities for collaborative research, student exchanges, and teacher exchanges abounded. I was so happy to hear the university representatives also acknowledge how much we have to learn from the Vietnamese in terms of entrepreneurial attitudes, innovation, hospitality, and scientific knowledge. I really feel that these exchanges will be truly mutually beneficial for both sides, which is an important REI value. Plans are being made for the next steps, and paths forward. Please pray that these will come to fruition, and for an Iowa State University professor to really take ownership of managing this type of mutual exchange program.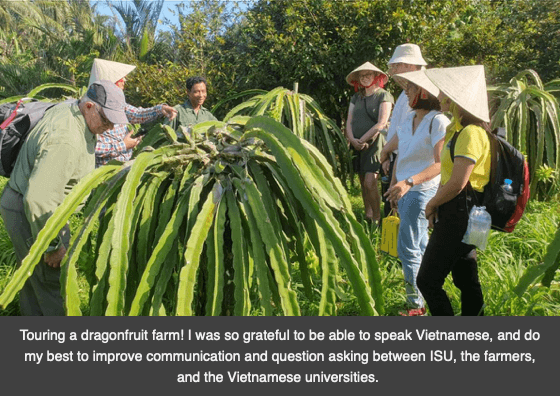 For Christmas outreaches, of course, God was glorified in that too. Our small church held a service including worship, games, a gospel message, and displaced persons outreach. Three people accepted Jesus as their savior for the first time and others are still considering what they've heard. Please pray for these people who have heard the good news for the very first time. We had a Christmas and New Year's dinner, and Community Church also had a much larger gathering on Christmas Day where another three people accepted Jesus as the lord of their life.
As a new pastor, Thang has also been building relationships with the local police, and the Ministry of Religious Affairs. They came to our church to wish us a Merry Christmas and invited all registered pastors to a dinner. I am personally so touched by the specialness of such a personal relationship-building event. Thang has especially built a more personal relationship with "Mr. Spring" who is influential in the department of Religious Affairs. They went for coffee where Thang shared his testimony with him, and we also went out to dinner with both of our families. They are quickly becoming dear to us. Please pray that these close and understanding relationships would continue to be a blessing and glorification of the good Father in heaven.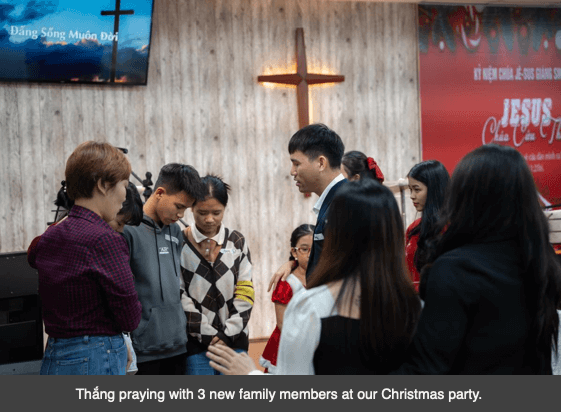 Oh! And our church finally has a new name! It is called Hoi Thanh Loi Chua, Logos church, or Word of God church. You can follow us on Facebook if you want to!
Phew! How's that for one month??? I didn't even share my typical year-end reflections. Perhaps another time 🙂 Also, thank you to all who donated to our year-end goal! We reached $2,856 of our $3,000 dollar goal, which will be matched by a generous donor! THANK YOU!
Love you all! A very blessed Christmas, and a happy new year!
Alyssa (and Thắng) Lại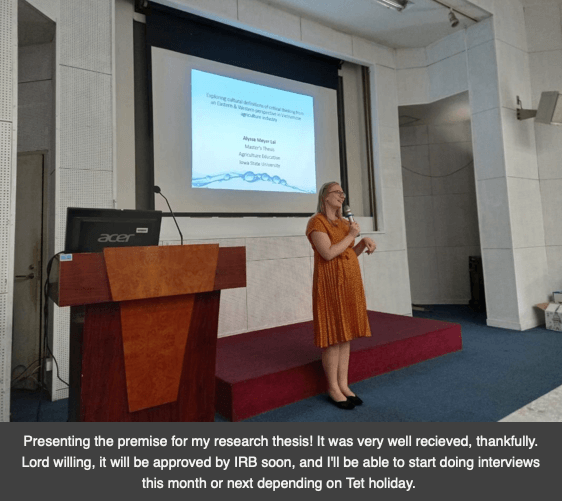 Click to join our financial support team! (Meyer Lại, Alyssa and Thắng)
Watch our Ministry Summary Video!
Cultural Moment
I just love Vietnamese ingenuity. Below are three examples from our trip. A footbridge, a cow hauled behind a motorbike, and coconuts being shipped down the delta…presumably to the floating markets.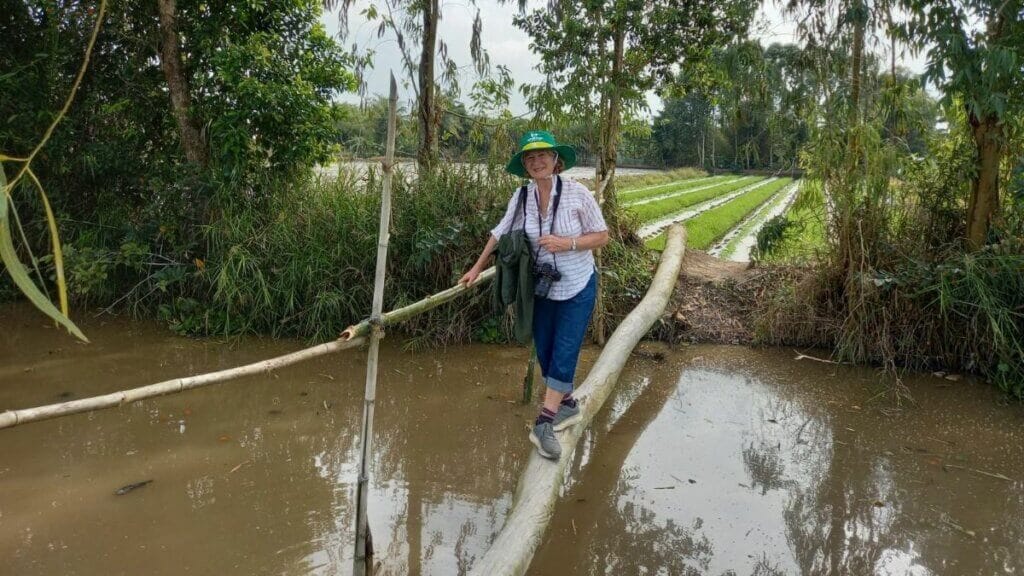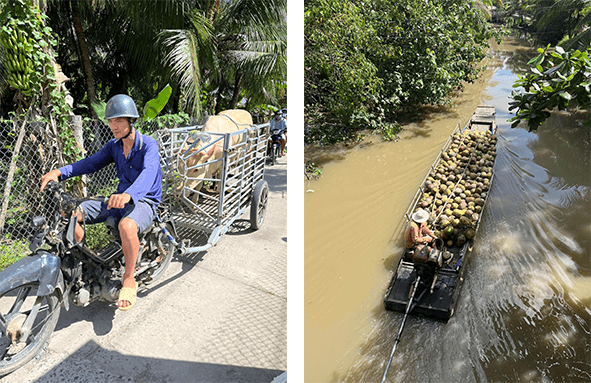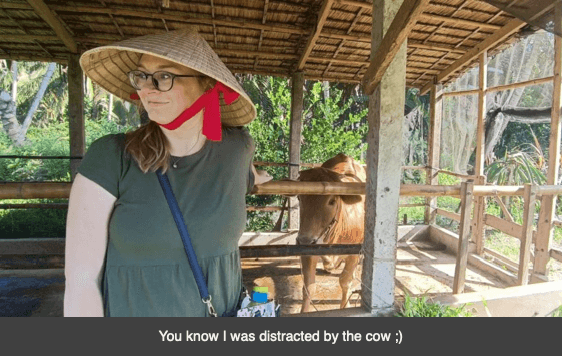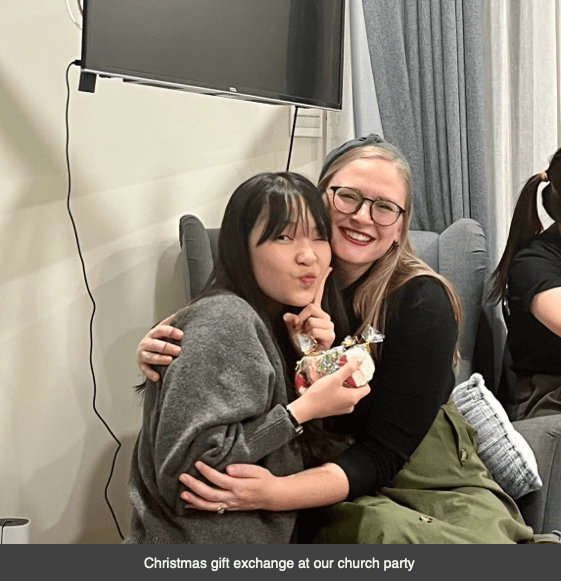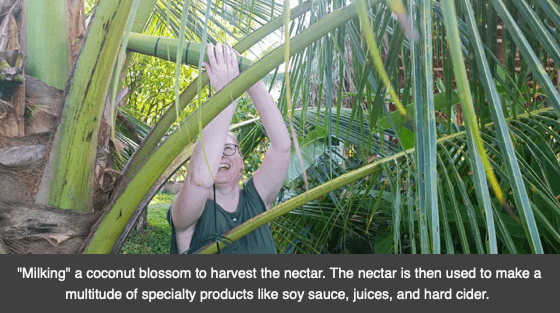 Click to join our financial support team! (Meyer Lại, Alyssa)
---